The Colourful History of Kangaroo Island
Kangaroo Island is Australia's third-largest island, after Tasmania and Melville Island. It lies off the coast of South Australia 112 km (70 mi) southwest of Adelaide. Its closest point to the mainland is Snapper Point in "Backstairs passage" which is 13.5 km (8.4 mi) from the Fleurieu Peninsula.
Kangaroo Island was discovered by English explorer Matthew Flinders. He mapped much of the coast whilst on his famous voyage to chart Terra Australis in 1802. Flinders got there just before French Commander Nicholas Baudin and it was Flinders who named the Island after the large number of native Kangaroos that they saw on landing.
Between 1803 and the first official settlement in 1836, sealers and whalers arrived early and traded thousands of seal skins and tonnes of salt. Some settlers were a lawless lot who raided mainland settlements kidnapping Aboriginal women and bartering skins and salt for liquor and tobacco. Eventually action had to be taken, and in 1827 a ship was sent from Sydney in NSW. Police rounded up a large group of these people and took them back to the east, returning Aboriginal 'wives' and their children and dogs to the mainland.
The barque, Duke of York, arrived at Reeves Point in Nepean Bay on 27th July 1836. The dense scrub, limited water and poor soil made farming and gardening difficult. Many settlers became ill and died. Pioneer life was very different from their expectations, but many people persevered, turning Kangaroo Island into a thriving farming community, yet preserving the natural beauty of much of the land. Kingscote became the first capital of South Australia until Colonel light shifted that settlement to Holdfast Bay.
Today, Kangaroo Island has a resident population of approximately 4,700 people with the majority of those living in and around the main township of Kingscote.
As you may have guessed, the present and future of the island has bloomed and flourished thanks to those who remain andt hose who came before us. Take your own journey through history at the many landmarks located throughout Kingscote!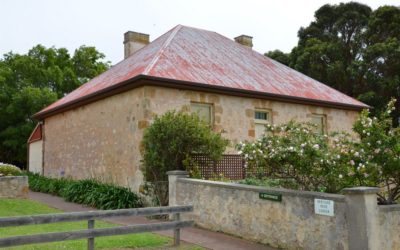 Hope Cottage Museum
This is a wonderful cottage museum, beautifully maintained and well worth a visit. Hope Cottage was one of the three earliest houses built in Kingscote, circa 1850, together with the adjoining cottages of Faith (which has been subsequently demolished) and Charity. The museum has many collections from photographs through to tractors and early farming machinery.
Old mulberry Tree
The Old Mulberry Tree at Reeve's Point was planted in 1836, and it's fascinating to learn that it still bears fruit after nearly two centuries! There are also surrounding recreational areas such as BBQ facilities with picnic tables and seats. On low tide, this is also a popular fishing spot for locals at the end of the reef.
Pioneer cemetery and Reeves point
The final resting place of the dead sounds like an unlikely tourist attraction, however, it is fascinating to quietly wak amongst the graves of heroes, explorers, and/or villians. The small Pioneer Cemetery is the earliest in South Australia dating back to 1837. One grave is that of Samuel, infant son of Eliza Reeves and Augustus Reeves, who was one of the first to land on Kangaroo Island. Therefore Reeve's Point was named after the latter, this landmark is also on the Australian Heritage List.